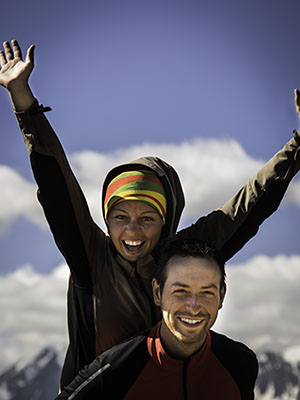 We are Algirdas and Dagne - two cyclists from Lithuania - a small European country. We have been cycling together for the past 9 years, during which we've crossed countless mountain passes in Central Asia, almost died from heat exhaustion in Namibian desert and had a lot of fun in Europe. However, this time, we've decided to do something, that we have never done before - conquer the North America!
We will start our journey in the US, cross the border to Canada, cycle there for a while, cross the border back to the US and cycle from Montana to Arizona on the Western Wildlands mountain bike route. This should take us about half a year, during which time we will cycle about 3400 miles. However, this could be only the beginning. Where exactly will our journey take us?.. We don't know. We do not have a return ticket yet, so we could continue down south. Who knows, maybe even reach Chile or Argentina?.. Only time will tell, so, let's not get ahead of ourselves....
or you can read our blog
2 € = 1 km + 1 tree That's the moto of our Canada - USA cycling tour!
Through out the duration of the trip, we invite you to not only help us achieve our goals, by donating, but also help replant the forests of Lithuania! We pledge to donate 50% of the money that we will receive to our partners at the Foundation of National Untouched Forests. The mission of this foundation is to protect existing forests as well as replant the forests that have been cut down.
We are very excited to help this cause and hope that you will be too. Our forests are the treasures we all share and we think it is worth saving!
What is this "Spikis", that I keep hearing about?..
Spikis is our non profit organization (which in Lithuanian slang means "a bicycle spoke"). Spikis was established in 2011 with the aim of promoting bicycles as a means of travel. We organize exciting and challenging trips to far away countries, like: Mongolia, Kyrgyzstan, Tajikistan, India, Altay republic, Namibia and a few others. We film these trips and afterwards create an adventure-documentary movie, that we publish in our national Cinemas, TV and even some international film festivals. These films are the easiest way to experience what it is like to travel our way - "not looking for an easy road"!
Check out our online store at https://shop.spikis.lt